Checkers, pyramids and a FAST demo in this week's Euro downloads.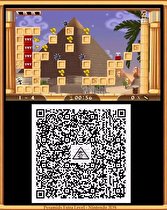 European gamers can choose from two pieces of download software this week.
3DS Download Software makes a return this week in the form of Pyramids from Enjoy Gaming. In this puzzle/platform game you will have to overcome 54 challenging 2D levels. Gameplay elements include a shovel to make and break blocks, a gun to defeat enemies and TNT to clear paths. Additional puzzles will become available in the future through QR codes. We have included the first one as a little extra to this article. The game can be yours for €4,00/£3.60.
On DSiWare this week, we have Academy: Checkers from Gamelion. It is a simple Checkers game with three difficulty settings and two different modes to play, English Checkers and International Draughts. There are also leagues in which you can compete and achievements to collect. It is available for 500 Points on the Nintendo DSi Shop or for €5,00/£4.50 on the Nintendo eShop.
Wii owners will also be able to download a demo of FAST: Racing League.