Japan gets a new 3DS color this November.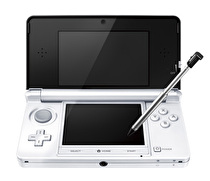 Nintendo will add a new color, Ice White, to the Nintendo 3DS lineup in Japan on November 11.
The unit will be priced at 15,000 yen ($195), the same as the standard price for the 3DS in Japan. Including the new color, this brings the total number of color variations of the 3DS to five in Japan - Aqua Blue, Cosmo Black, Flare Red, Misty Pink (on 20 October), and the upcoming Ice White.
There is no word if the Ice White 3DS will be available outside of Japan.