Independent developer says that 'Nintendo is particularly great at providing support to developers.'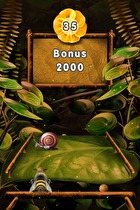 Anytime a developer needs assistance with its game, Nintendo is quick to lend a helping hand, explained David Márquez de la Cruz, the head of Spain-based developer CoderChild.

On Thursday, CoderChild released Bugs'N'Balls, which is not only the company's first DSiWare title, but also their very first video game release. In an interview with the developer, Márquez de la Cruz told Nintendo World Report that Nintendo has, "always been helpful and responsive" and holds, "an impressive amount of resources" for those who seek it. He further stated that, "even in the approval process, when there is something that needs to be improved, they provide hints" to the solution.
Nintendo has been known to have some strict requirements for publishing on its downloadable platforms, but the company will certainly be there to help when a developer could use it.
Read the full interview with the CoderChild here.