Display case reveals unannounced features.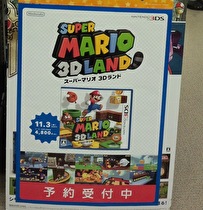 The display boxes for Super Mario 3D Land, put out on Japanese store shelves today, revealed the game to have StreetPass and Super Guide features.
StreetPass will allow the exchange of in-game items between players, while the P-Winged Assist Blocks will help players with useful or special items that can help them out.
Exactly what items will be transferred between systems is unknown as of now. The P-Wing items first appeared in Super Mario Bros 3 on the NES and it allowed players to fly continuously across the level effectively giving them an easy way to pass over the level.
Pre-orders have also officially started today in Japan, along with Kirby's Return to Dreamland on Wii (called Hoshi no Kirby Wii).
Super Mario 3D Land releases on November 3rd in Japan and the 13th in North America.