Twinbee sees a 3D rebirth and there is an invasion of cubes of light.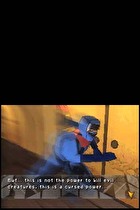 Six pieces of software have been added to Nintendo's various download services today. The lone eShop exclusive for the week is 3D Classics: Twinbee. Originally developed by Konami and later remade by Nintendo, Twinbee makes its first ever appearance in North America. The overhead, scrolling shooter is available now for $4.99.
Nintendo Video sees only one new entry today: Blue Man Group Foley Part II, a continuation of last week's Blue Man Group video.
Two games are available now through either the eShop or DSiWare. The first of these is Escape Trick - Ninja Castle from INTENSE CO. The objective behind this game is to escape a castle by solving various puzzles. It can be purchased for $4.99.
The second game is Break Tactics from Agetec. It is a fantasy tactics game where players recruit and level up new party members while having them tackle various enemies and gain new ground. It, too, is available for $4.99.
On the WiiWare service, one full game and one demo have been added. Aya and the Cubes of Light, from Object Vision Software, is the full game for the week. In it, players solve various puzzles and mazes involving cubes of light. It has been priced at 1000 Wii Points ($10).
The demo is for Microforum's 3D Pixel Racing. The game features a unique graphical look that resembles a classic racing game set in a tri-dimensional world. The game was originally released on July 14 and is priced at 500 Wii Points ($5). The demo, however, is available now free of charge.