Just why isn't Star Fox 64 3D's multiplayer mode online?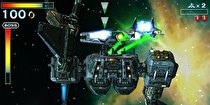 Yusuke Amano, game development coordinator between Nintendo and Q-Games, explained why Star Fox 64 3D's expanded multiplayer mode lacks an online component in an interview with Official Nintendo Magazine.
"Personally, I play a lot of online FPS games," Amano states. "This leads me to think that just making multiplayer parts of existing games playable online isn't enough to create a satisfying experience for users. The popular online games work in lots of things, so they play well online - and if we wanted to satisfy everyone who bought the game, the costs required for including online support would be vast."
In addition, one of the reasons why the game isn't online is because the development team was pressed for time and wanted to focus more on delivering the promise of improved 3D graphics. Amano explains that "for this project what we needed to do was use Star Fox to provide users with a game that shows the appeal of Nintendo 3DS as quickly as possible. We put a lot of effort into the graphics, and if we had included online support then we couldn't have reached this level in the time allowed."
Despite its absence in Star Fox 64 3D, Amano doesn't discard the opportunity of adding online play to a future Star Fox game, explaining that they were satisfied with how the current multiplayer mode worked out.