The famous online RPG will now be part of the DS's vast library of games.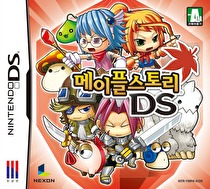 MapleStory DS, Nexon's first DS title will be released in Japan on November 17 for 3990 yen.
Based upon the free-to-play PC MMORPG, MapleStory DS is a single-player action RPG featuring new 3D-rendered movies and a brand new story separate from the MMORPG.
In addition, the game will have connectivity with the PC game. The DS game can be linked through a serial number given on Nexon's registration website. Players can feed pigmies in the DS game, and they will lay eggs. After these eggs incubate, items become available in the MMORPG. The game, however, has an additional fee for egg incubation, though it is unclear how players will be charged.
Limited edition copies will come with serial numbers of three items that can be used in the MMORPG: a blue beret cap with feathers, a black cloud (vehicle), and lovely wings.

The game originally launched in South Korea on April 15, 2010. No news of a North American release has been announced.