It's an all-new Mewtwo for an all new generation.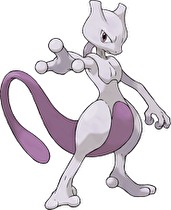 Mewtwo will be available for download via Wi-Fi download in Japan for all Pokémon Black and White trainers from September 26 through October 31.
Mewtwo's release will coincide with the TV Tokyo series "Pokémon Smash!" Not much information is available about the new version of Mewtwo except that it will have the "Pressure" ability.
Pokémon Black and White were released on September 18, 2010 in Japan and March 6, 2011 in North America.