Zelda isn't the only Japanese franchise turning 25 this year.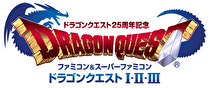 Dragon Quest 25th Anniversary is available for 4,440 yen starting today in Japan. This anniversary edition contains five games including the Famicom versions of Dragon Quest I, Dragon Quest II, Dragon Quest III, the Super Famicom compliation Dragon Quest I + II and the Super Famicom remake of Dragon Quest III.
There are also bonus materials included with the commemorative edition including a reissued strategy guide Famicom Master Secrets Encyclopedia (130 pages), twenty-fifth anniversary commemorative opening animations for Dragon Quest I, II and III (included in the game), the "Dragon Quest Development Treasure Trove," full of fascinating development and production documents from the late 80s (included in the game), Exclusive Dragon Quest X footage (included in the game), and a life-sized mini-medal (first-run limited edition only).
Dragon Quest Anniversary Collection is playable on the Tokyo Game Show floor this year. There is no word on a release outside of Japan at the present time.