Mega Man fires up the eShop, and the Blue Man Group keep on groovin'.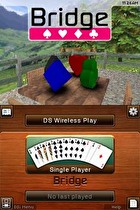 Five new pieces of software have been added to Nintendo's various downloadable game services this week.
Exclusively for the 3DS's Virtual Console is Capcom's Mega Man: Dr. Wily's Revenge for the Game Boy. Originally released in 1991, the game borrows heavily from its console counterparts, complete with various robot masters to choose from.
Today's Nintendo Video update is another video starring the Blue Man Group, this time titled Foley Part 1.
Two games for both the DSiWare and eShop added this week. The first of these is Defense of the Middle Kingdom by Aksys Games. Being a tower defense game, players place soldiers on the battlefield in order to prevent enemy forces from entering the base. It is available now for $4.99 (500 Nintendo DSiWare Points on DSi).
The second DSiWare and eShop game for this week is Bridge from Cosmigo. A card game, Bridge allows up to four players and even camera support for the player's avatar. It is available now for $4.99 (500 Nintendo DSiWare Points on DSi).
Finally, only one WiiWare game made an appearance on today's update: RedLynx's MotoHeroz, a side-scrolling platforming game with a unique gameplay concept: vehicle racing. It has a story mode, and a multiplayer mode for up to four players. MotoHeroz can be downloaded for 1500 Wii Points ($15).