The creators of Golden Sun return to work on Mario's latest tennis game.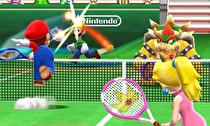 Camelot, best known for their work on the Golden Sun series, is developing Mario Tennis for the 3DS, which was unveiled at last night's Nintendo 3DS Press Conference.
Camelot developed both Mario Golf and Mario Tennis for the Nintendo 64 and Game Boy Advance, and GameCube. They also worked on the New Play Control version of Mario Power Tennis and We Love Golf for Wii.
Mario Tennis 3DS is scheduled for release in 2012. It hasn't received an official title.