Pikachu returns to this Pokémon-inspired mini-game collection.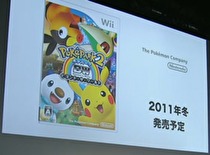 A follow-up to last year's PokéPark Wii has been announced.
The most recent issue of Japan's Coro Coro Comics magazine revealed some details regarding the game. It was also briefly mentioned at last night's Nintendo 3DS Press Conference event. The full title behind it will be PokéPark 2: Beyond the World. The game will feature Pokémon from the Black and White generation, and it will feature four player attractions.
It is slated to be released in Japan this Winter.