Atari and n-Space are bringing the popular PC series to the Nintendo 3DS.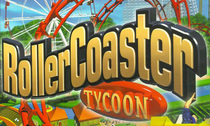 In the latest issue of Nintendo Power magazine, it was announced that Atari would be bringing the RollerCoaster Tycoon series to the Nintendo 3DS.
The new installment in the series, which is being developed by n-Space, is being built from the ground-up with brand new assets for the game. The game will feature touchscreen controls, as well as the option to view coasters in 3D. Several different coaster designs will return, such as suspended, hydraulic, wooden, steel and inverted.
In typical RollerCoaster Tycoon fashion, plenty of other rides will be available in order for players to build the theme park of their dreams. Returning attractions include monorails, pre-built kiddie rides, carousels, haunted houses and country fair-style attractions.
For those new to the series, a tutorial is being included, as well as a wide variety of modes such as Coaster Creator and Sandbox.
RollerCoaster Tycoon for the 3DS launches in North America this March.