The pink blob's second Wii outing hits stores near the end of October.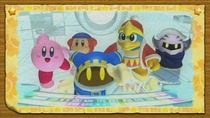 Kirby's Return to Dream Land will be released on October 24 in North America, Nintendo announced today.
Previously, the game had an unspecified fall release date. The new date and name were officially revealed through a press release in which Nintendo also advertises the game's presence at this year's Penny Arcade Expo.
Kirby's Return to Dream Land brings Kirby back into his classic platforming roots after last year's experimental Epic Yarn. It will feature four player platforming akin to New Super Mario Bros. Wii, and players can even play with up to four Kirbys at once.