A 2010 patent application smells a lot like Animal Crossing.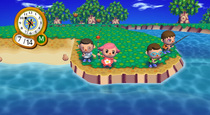 A patent application filed by Nintendo in January 2010 and recently published refers to the idea of Massively Single-Player Online game. The idea behind the patent seems to be a game that allows players to interact with non-scripted elements to bypass artificial intelligence limitations without having to worry about the problems that come about when encountering random other players in an online environment.
The idea of an online single-player game brings visions of Animal Crossing to mind, a game that involves people interacting in the same world, but largely not doing so directly. The patent application mentions that players could see each other playing the game and have some sort of interaction if they were added on to each other's friends list.
Another specific example that was given in the application is that of a game that uses an economy based on real-life supply and demand, making some items more scarce and valuable.
The patent application also discusses the idea of a "Wii 3D" video game system, although since the patent was filed, Nintendo has said that they have no interest in developing a 3D home video game console, saying that the handheld space makes more sense for a 3D screen.