The eco-friendly creature was too similar to the Pokemon mascot.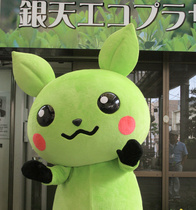 Eco-chan, a character created to promote the environment by Japan's Yamaguchi Prefecture, has been retired to due claims of the character being too similar to Pokemon's Pikachu.
The character has the same facial features as Pikachu, but painted green in order to fit with the message of nature protection. The media started noticing the similarities between the two characters, forcing the city to retire the mascot costume. The original character illustrator claimed that they didn't know who Pikachu was when creating the character.
The illustration of the character, however, will still be present in marketing material.