The DS homebrew title is getting an official upgrade.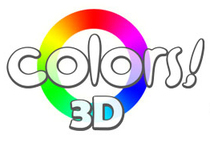 Collecting Smiles' drawing application Colors! is coming to the 3DS eShop in Q4 this year in the form of Colors! 3D.
The original freeware Nintendo DS homebrew application was released to the public in 2008, and featured advanced drawing tools such as pressure sensitivity and the ability to link to a Java application to create a movie playback of paintings created in the app. Pictures could be saved to SD card and transferred to a computer, or uploaded to an online gallery. The application was later brought to iPhone.
The official site states that the 3DS version will allow you to paint in 3D, and will feature a fully integrated gallery as well as a 4-player collaborative mode. No word on pricing has been announced yet.