The Game Boy Color card battler is coming to the 3DS VC next week in Japan.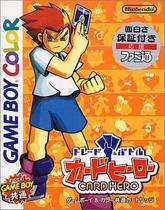 Trade & Battle: Card Hero will arrive on the 3DS Virtual Console on August 10 in Japan.
The title, jointly developed by Nintendo R&D1 and Intelligent Systems, originally hit the Game Boy Color in 2000 in Japan. This card battling RPG was never released in North America or PAL regions.
Trade & Battle: Card Hero brings the number of 3DS Virtual Console games to 22 in Japan.