Konami's arcade shoot 'em up is scheduled to hit Japan next week.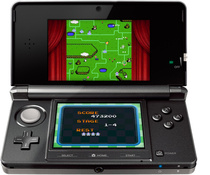 The next 3D Classic, TwinBee, will launch on the Japan eShop on August 10 for 600 yen.
The shoot 'em up originally appeared in arcades in 1985 and then later came to home consoles, including the Famicom, in 1986. The game did not see an official release outside of Japan until it appeared on Konami Classics Series: Arcade Hits on the Nintendo DS in 2007 under the name RainbowBell. Its first sequel, Stinger, was released on the NES.
This vertical-scrolling shooter is the fourth 3D Classic to be released in Japan. The game was featured in the 3D Classics Collection demo shown at E3 2010. So far, only two 3D Classics, Excite Bike and Xevious, have been released in North American and PAL territories.