Yet another Nintendo character is making their 'return.'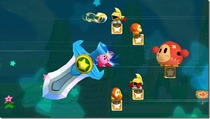 Kirby's next Wii outing has a title: Kirby's Return to Dream Land. The game has been know under its working title, Kirby Wii.
The title, which launches this fall, will be a multiplayer platformer similar to New Super Mario Bros. Wii. It features the titular Kirby, King DeDeDe, Waddle Dee, and Meta Knight as playable characters.
Unlike 2010's Kirby's Epic Yarn, Kirby will have his trademark ability to suck in enemies and will be able to steal their powers.
A demo of Kirby Returns to Dreamland is playable at Comic-Con this week.
Note: an earlier version of this story called the game Kirby Returns to Dreamland as the original source specified. This has been corrected.