A classic game gets remade in 3D, and a bunny steals some carrots.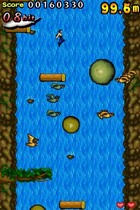 This week Nintendo's downloadable services sees six new games spread across its services, including the latest 3D remake of a classic game.
3D Classics: Xevious is the exclusive highlight of the eShop. The game retains the classic arcade gameplay, but adds 3D visuals. It is available for $5.99.
The update also announced Nintendo Video for the eShop, which will be fully available at a later date. The service promises short 2D and 3D videos. No other details were given about the feature. A short video is on the eShop, which teases College Humor support.
For both the eShop and DSiWare, three new games are available. The first of these is Antipole by Saturnine Games, a gravitational platformer where players use gravity to avoid enemies and obstacles. Players can download the game for $4.99.
The second is Kung Fu Dragon by Agetec, a title in which players complete their kung fu training by climbing up a waterfall. The higher they climber, the bigger their score will be. It is available for $1.99.
Finally, Trollboarder from Enjoy Gaming LTD, a snowboarding game starring trolls, is new this week. You can race and complete various achievements as well as face other trolls. It is available on DSiWare/eShop for $1.99.
The lone WiiWare game is Bobby Carrot Forever by FDG Entertainment. A puzzle/platformer, players guide Bobby through several levels as he collects carrots throughout 70 levels. Bobby Carrot Forever can be downloaded for 800 Wii Points ($8).