A post on Capcom Unity's Devroom blog announced the tragic news.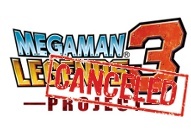 Mega Man Legends 3 has been canceled. Capcom announced the news on their Capcom Unity Devroom blog, where they had been chronicling the development of the 3DS title. This not only includes the retail title, but also the standalone Prototype version that was to be released on the 3DS eShop. The reason behind the game's cancellation was that the title did not meet the number of required criteria that Capcom had set for the game to go into full production.
Mega Man Legends 3's discontinuation is made worse by the fact that the developers were using it as way to increase interaction with the gaming community. Many of the game's decisions were put up to a vote as a way to give the gaming community greater input into the project and contests were held to design in-game assets.
Despite the fact that this is the second Mega Man title to be canceled this year, along with Mega Man Universe, Capcom insists that the future of the franchise is not in question. In a FAQ included in the announcement, Capcom states that "Mega Man is still an important franchise within Capcom's portfolio and we will continue to pursue opportunities to create new titles in the series."