Pokémon Company is working independently on their game for iPhone and Android.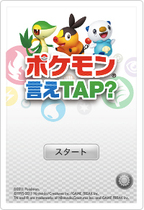 Nintendo will not be bringing any games to smartphones and will develop software only for their own hardware platforms. This strategy "hasn't changed and won't change," said Yasuhiro Minagawa, a spokesperson for Nintendo Co., Ltd.
This comment was in response to the announcement of a smartphone game from The Pokémon Company featuring the franchise. Though the company is 32 percent owned by Nintendo, they are working independently on the iPhone and Android release.
Nintendo's shares rose almost 5 percent in response to the announcement, though fell to less following clarification on their position on smartphones.
Pokémon Ie Tap was announced recently for a summer release on the iPhone App Store and Android.