Hudson Soft's classic will hits the 3DS VC next week.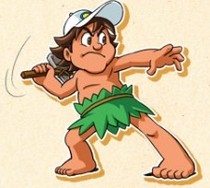 Adventure Island II will arrive on the 3DS Virtual Console in Japan on July 13 for 400 yen.
Adventure Island II is a side-scrolling game that puts players in the role of Takahashi Mejin (Master Higgins in the English language versions) as he navigates his prehistoric world in an attempt to save his girlfriend from invading aliens. Skateboards, dinosaurs and axes aid Master Higgins on his valiant quest.
Adventure Island II will be the sixteenth Virtual Console title in the Japanese eShop.