Iwata sits down and talks to the producer of Resident Evil: The Mercenaries 3D.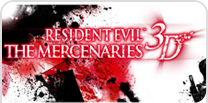 Resident Evil: The Mercenaries 3D is due out in European territories this Friday, and to bring attention to Capcom's first Resident Evil game for the Nintendo 3DS, Nintendo has released an Iwata Asks feature geared towards the title. The interview this time around is with the producer of the Resident Evil series, Masachika Kawata.
Throughout the feature, many interesting tidbits of information are revealed. For instance, when Iwata quizzed Kawata on whether or not making two Resident Evil games for the Nintendo 3DS was their plan from the beginning, he responded by saying:
The plan for Resident Evil: Revelations was moving along first, but we were putting a lot of work into the scenario and other aspects of the game, so it was going to take a long time to complete. However, we wanted to release something soon after the Nintendo 3DS system hit the market, so we started making and testing Resident Evil: The Mercenaries 3D - the game system of which was already pretty much in place. I thought Resident Evil: The Mercenaries 3D stood above Resident Evil: Revelations when it came to impact rather than fear, and there was a desire to see it become its own product, so it worked out perfectly.
Later into the interview, the two went on to discuss the appeal of both handhelds and the Wii in Japan. Kawata remarked that his parents seldom played video games, but thanks to the Wii, were turned into gamers. In addition to this, Kawata also remarked that he enjoyed nintendogs + cats due to the realism that the 3D effect had on the game.
Resident Evil: The Mercenaries 3D is due out in North America today and later in the week for European territories.