PEGI rates the third Nintendo DS game in the Rune Factory series.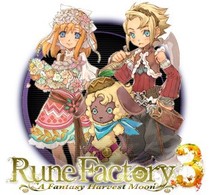 According to PEGI, the European rating board, Rune Factory 3 for Nintendo DS will be released in Europe in the future.
Their rating for the game was 12+. No specific release date was announced for the game. The newest Rune Factory title was released in North America late last year in November 2010. The Rune Factory series is handled by Rising Star Games in Europe, but no official announcement from the publisher has been made yet.