Developer Project Sora was planning to make Smash Bros. 3DS after Kid Icarus all along.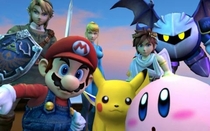 Kirby and Smash Bros. creator Masahiro Sakurai hasn't given too much thought to what the next Smash Bros. game, announced for both Wii U and 3DS by Nintendo Global President Satoru Iwata at E3 2011, will be like.
The head of Project Sora, currently working on Kid Icarus: Uprising, talked about the game in his column in Famitsu. "Project Sora had intended to make a 3DS Smash Bros. once it had finished up a game on the system and had gotten used to the hardware's feature set," Sakurai said. "With the advent of the Wii U, though, we had a choice to make. Iwata asked us if wanted to make the next Smash Bros. on the Wii U or 3DS, and my thought was that we had to go on both platforms."
The announcement at E3 2011 was definitely a tad premature, though Sakurai says there are pros and cons to the early unveiling. "I'm not sure it's the smartest thing to make gamers wait for several years, but the early announcement was made chiefly in order to attract new team members."
That new team, Sakurai said, will have to play a large role in the design and direction of the game, as he hasn't been afforded the time to plan the game and lay out a design document. "The hardest part about game development is the burdens it places upon me," he said.