The 3D remake sold 100,000 copies in the first week, and placed second in the sales charts.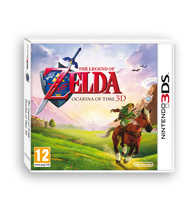 The Legend of Zelda: Ocarina of Time 3D is the fastest selling Nintendo 3DS game in the UK to date, with 100,000 sold in the first week following launch. This is almost as much as total sales for PilotWings Resort, released nearly three months ago at the console launch.
Despite the game's sales performance it failed to reach the top of the UK sales charts, taking second place to Zumba Fitness: Join The Party for Wii and Xbox 360, which climbed to first position following its placement of third last week, despite being released in November 2010.
From the looks of things, Zumba Fitness could rival Mario & Sonic at the Olympic Games with its sales longevity.