Company has a long relationship with the franchise.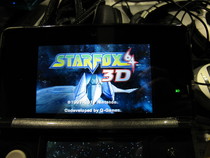 Star Fox 64 3D is a joint venture between Q-Games and Nintendo, as revealed by the game's copyright notice.
The arrangement is likely similar to Ocarina of Time 3D's co-development with Grezzo, as both games feature enhanced graphics and additions, such as gyroscopic gameplay.
Q-Games developed the previous Star Fox game, Star Fox Command for DS. Additionally, members of the company worked on the original Star Fox for SNES.