The yarnless version of Kirby will be released outside of Japan too.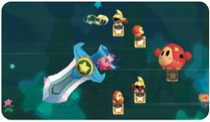 The next Kirby game for Wii takes him back to Dream Land. Previously announced for Japan, the game is now confirmed for a North American release, though the game title is tentative.
The game features cooperative mode for up to four players working as a team to collect Point Stars and Ability Stars. Players can drop in and out of the game at any time.
In addition, Kirby will have his Copy abilities and classic and new skills such as Sword, Beam, Whip, and Leaf. Super Abilities are activated when Kirby swallows special enemies, such as the Super Sword which clears the whole screen of foes.
The game is due for release in Fall 2011.