Breakout-style Game Boy game among the first to be confirmed for the upcoming download service.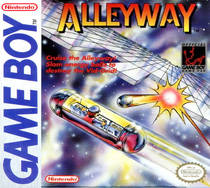 Alleyway, a Game Boy game developed by Nintendo's Intelligent Systems and released in 1989, has been rated by the ESRB as a 3DS Virtual Console title.
The game features gameplay similar to the classic game Breakout, with the player controlling a paddle on the bottom of the screen attempting to keep a ball bouncing to break the wall of blocks at the top. Mario makes a guest appearance in the game as the guy piloting the paddle.
The 3DS Virtual Console is expected to launch with the Nintendo 3DS eShop on June 6. The release date for this specific title is unknown.