Firmware update blocks save file exploits.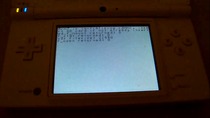 DSi hacker yellows8 detailed the recent DSi firmware update, which was released on May 10. Nintendo DSi Menu Ver 1.4.2 plugs a hole where a specially crafted save file could be loaded from an SD card to install an exploit onto the DSi system's memory, allowing homebrew to be played.
On January 27, Team Twiizers released a save file hack that exploited a bug in EA's Sudoku DSiWare title. The exploit allowed users to run homebrew software that could access to "DSi mode," features specific to the DSi, such as the cameras and faster processing speeds in comparison to the DS.
Shortly thereafter on January 28, Nintendo removed the software from the DSi Shop after an estimated 350 individuals installed the exploit. A fixed version, which also detects and removes the exploit, was released on March 24.
yellows8 explains that a flaw in the way Nintendo verified save files allowed the hackers to load their own edited save files. When loading a DSiWare title, the DSi previously looked at a file on the SD card to verify its integrity. After the update, the system instead checks a security file stored in internal memory, thus blocking all "current and future" DSiWare save file exploits.
Last Tuesday's System Menu update also blocked most flash cards, which can be used to play homebrew as well as pirated games, from working on the system. Immediately following the update, the various flash card manufacturers updated their own firmware to bypass the new prevention measures. CycloDS iEvolution, the only flash card to work in DSi mode, was not blocked by the update.
According to Nintendo's North American support site, the "update provides behind-the-scenes improvements to system performance." The Japanese equivalent site adds that security was improved. It is not clear what the performance improvements entail.