UK fans get a double-sided poster and a gold slip cover if they pre-order Ocarina of Time for 3DS.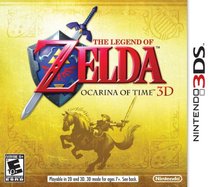 Pre-orders of The Legend of Zelda: Ocarina of Time 3D in the UK will be rewarded with a double-sided, A2 poster, when placed at participating GAME and gamestation stores. Furthermore, once collected upon release, the hotly-anticipated game will also feature a limited edition slipcase featuring a golden title card.
According to description, one side of the poster will show Link in the heat of battle, and the other will show him gracefully riding Epona across the Hyrule countryside.
No images of the poster or slipcase have been revealed, but the limited edition box will likely resemble the standard US cover art, which already features a golden silhouette of Link and Epona. No pre-order bonuses for the North American version of the game have been announced.