The Nintendo DS was the second-best selling system last month.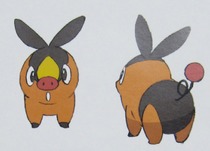 Just Dance 2 and Pokémon Black and White top exclusive Wii and Nintendo DS releases for April 2011, with an assortment of other games with Nintendo system versions, including LEGO Star Wars III and Tiger Woods PGA Tour 12, populating the top 10 best-selling games of the month.
The Nintendo DS was the second-best selling piece of hardware for the month with 257,000 units sold, right behind the Xbox 360. It was 42 percent drop from last April. 194,000 3DS units were sold, and the Wii sunk to 172,000 units, a 32 percent decrease from April 2011. In general, there was growth in hardware and software sales in the industry, with the Wii and DS both showing an increase in software unit sales from April 2010.
Pokémon White, one of the top games of March 2011, was the ninth-best selling game of the month. Not on the list was Pokémon Black, which would have appeared if every platform version of a game wasn't lumped together. The two games combined to sell 2.8 million copies since their early March launch.
Just Dance 2, coming in at seventh, was the only Wii-exclusive title on the list. Michael Jackson: The Experience, another dancing game from Ubisoft that is also available on other systems, was eighth.
LEGO Star Wars III, which saw releases on Wii, DS, and 3DS, was the third-best selling piece of software. Call of Duty: Black Ops, including Wii and DS versions, was fourth, though the likelihood that the Wii and DS sales put Black Ops that high on the list is low. Tiger Woods PGA Tour 12: The Masters, available on Wii, was the fifth game on the top 10.
Top 10 Games (New Physical Retail Only)
Mortal Kombat 2011 (360,PS3)
Portal 2 (360,PS3,PC)
LEGO Star Wars II: The Clone Wars (Wii,DS,3DS,360,PS3,PC)
Call of Duty: Black Ops (Wii,DS,360,PS3,PC)
Tiger Woods PGA Tour 12: The Masters (Wii,360,PS3)
Crysis 2 (360,PS3,PC)
Just Dance 2 (Wii)
Michael Jackson: The Experience (Wii,DS,360,PS3,PSP)
Pokémon White (DS)
NBA 2K11 (Wii,360,PS3,PSP,PS2,PC)