Gamers in Japan are warned to pre-order their copy before shipments run out.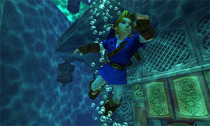 Nintendo will be shipping less than 150,000 copies of The Legend of Zelda: Ocarina of Time 3D for the Japanese launch, according to Sinobi.
The initial reports of Nintendo shipping the game in small numbers have greatly spurred pre-orders. Due to this, it is expected that Nintendo will ship more units of the game in order to meet the demand.
The Japanese website noted that Nintendo may have limited the supply of the title to prevent the game from quickly reaching the bargain bin, a problem that surfaced with previous Zelda releases in the country.
The Legend of Zelda: Ocarina of Time 3D will be released in Japan on June 16.