The famed developer also made comments on new 3DS AR games.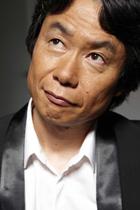 After several sites commented on Nintendo's next console (now dubbed "Project Café"), Miyamoto expressed his thoughts on the matter, saying that Nintendo is always working on new hardware.
In an interview offered by French site Gameblog, Shigeru Miyamoto discussed many things going on at Nintendo. He confirms that he is still working on the next Pikmin, a title long in development since it was announced at E3 in 2008. He also re-confirms that he is working on the next Mario game and the next Mario Kart game for the 3DS. He notes that the tail shown on the Super Mario logo at GDC is indeed related to the Tanooki powers from Super Mario Bros. 3.
When asked about the Zelda franchise, he says that Nintendo will celebrate the series' anniversary this year, much like they did last year with Super Mario. Miyamoto mentions that there will be products commemorating the release of the first game in the series.
In addition, Miyamoto mentions that Nintendo is working on new AR games for the 3DS. However, he didn't mention if they were going to be downloadable titles or retail games.
Finally, Miyamoto made comments about Project Café, the alleged name of Nintendo's next system. He notes that Nintendo believes research and development on new consoles takes about five years to become interesting. He says that Nintendo is always working on new hardware and experiments that the public will never see, making the comment that "where there's smoke there's fire". He, however, warns readers that "you shouldn't believe everything you read", most likely referencing the stream of rumors about the system that started circulating the internet last week.
Thanks to BlackNMild2k1 for the news tip.