Nintendo's pocket monsters rule the software sales chart for March.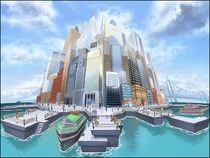 Pokémon Black and White were the top selling games for the month of March.
According to the latest NPD sales data, the fifth generation in the Pokémon series claimed the first two slots in the top ten, ending Activision's Call of Duty: Black Ops's four month reign. According to Nintendo, the combined titles sold approximately 2.5 million units, breaking the previous record set by Pokémon Gold and Silver, released in 2000.
On the 3DS front, Super Street Fighter IV 3D Edition was the best selling game for the 3D enhanced handheld. This was confirmed after Capcom has proclaimed they had shipped one million units of the title.
The two best-selling third party Wii titles, Just Dance 2 and Zumba Fitness, left the top ten after a successful series of months.
The full NPD top ten for March is as follows:
1. Pokémon White Version (Nintendo) - Nintendo DS
2. Pokmon Black Version (Nintendo) - Nintendo DS
3. Homefront (THQ) - Xbox 360, PS3, PC
4. Dragon Age II (Electronic Arts) - Xbox 360, PS3, PC
5. Call of Duty: Black Ops (Activision Blizzard) - Xbox 360, PS3, Nintendo DS, Wii, PC
6. Lego Star Wars III: The Clone Wars (LucasArts) - Wii, Xbox 360, Nintendo DS, PS3, 3DS, PSP, PC
7. Crysis 2 (Electronic Arts) - Xbox 360, PS3, PC
8. NBA 2K11 (Take-Two) - Xbox 360, PS3, PS2, Wii, PSP, PC
9. MLB 11: The Show (Sony) - PS3, PSP, PS2
10. Fight Night Champion (Electronic Arts) - Xbox 360, PS3
On the hardware front, the March 27 launch of the 3DS gave the system five days to post approximately 380,000 units, about 100,000 units less than the DS's launch month, which covered 10 days. The launch of the 3DS yielded an increase in spending on new retail hardware, which was up 12 percent year-over-year to $495 million. The DS, however, was the top selling system for March. The Wii sold 290,000 units.