The new game in the series is penciled in for a July release in Japan.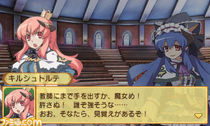 Over the past few days, many Japanese retailers have listed Class of Heroes 3D for a July release in the region.
The retail listings also revealed some new details on the game, such as the game's inclusion of the SpotPass feature. By taking advantage of this mode, you can obtain information on other player's parties.
Other new features include the "Around View System," which enables players to look around dungeons for hidden items.
Class of Heroes 3D is listed for a July 7 release in Japan and is priced at ¥5,880.