Namco-Bandai's upcoming compilation is more than just a collection of game-modes.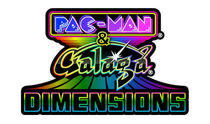 The Nintendo 3DS title Pac-Man & Galaga Dimensions features more than just the extra game-modes revealed earlier this week. A preview posted by Weekly Famitsu revealed two new features in the compilation. Each mode will feature 16 medals that can be unlocked by completing challenges, and the title will feature online leaderboards.
Pac-Man & Galaga Dimensions will be released in Japan on June 23.