The SNES reboot of the Mega Man franchise is the only VC game listed on the week's upcoming games.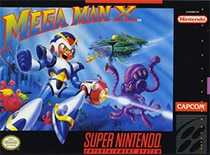 Mega Man X (Rockman X in Japan) is coming to the Japanese Virtual Console April 5, according to the recently updated Japanese Virtual Console list. The SNES classic will retail for 800 Wii Points.
Square Enix's Chrono Trigger and SNK's King of the Monsters 2 were both recently announced for Virtual Console, along with Mega Man X. Both of those games are still without a release date.