Reggie Fils-Aime explains once more the difference between indie and garage developers.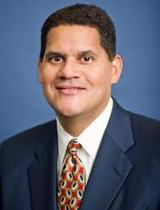 Nintendo of America president Reggie Fils-Aime believes that the difference between a garage developer and an independent developer is talent and experience.
In an interview with Joystiq at the launch of the 3DS last Sunday, Fils-Aime elaborated on his comments regarding the independent developer and the difference between them and the garage developer. "We've been clear that we want to work with independent developers who understand this business, who have experience in this business,". Fils-Aime uses 2D Boy, the creators of World of Goo, and Gaijin Games, the developers of the BIT.TRIP series, as examples of the kind of content they want to get from independent developers. "These are people who spent time working with larger publishers and larger developers, but had that idea in the back of their head that they needed to bring to life ... and so that's the type of entity that we want to work with."
He further elaborated to Joystiq that the difference between an independent developer and a garage developer was experience in the industry and game development. "These are talented developers. That's different from the person who envisions themselves as a developer, but actually hasn't necessarily created anything, who doesn't necessarily understand what it takes in this business to create compelling content. That's where we draw the line."
He concludes his statement on the matter between indie and garage developers that "I'll tell you, if someone calls us tomorrow who has no experience in the gaming industry, but has a passion and has a great idea, our perspective would be, 'Great, but get some experience. Understand your craft, and then come back to us,'" .
In an interview with Gamasutra, Nintendo's Director of PR Marc Franklin explained that Nintendo is still interesting in finding innovative content for their systems. "Nintendo always appreciates good quality content regardless of whether that's coming from an indie developer or a more established publisher."
"For example, we've worked with 2D Boy, the people behind World of Goo for WiiWare," he said. "This is a group of guys who don't even have an office. So we embrace that kind of independent spirit and it's ultimately the most innovative content that will rise to the top."