Picking up Street Fighter IV on launch day? Come join us for some good old fashioned brawling.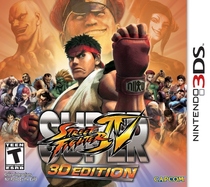 To celebrate the release of the 3DS and Super Street Fighter IV 3D Edition, we're going to play the new handheld's only online launch title over Wi-Fi.
Because of the one-on-one nature of Street Fighter, there won't be a formal time set for this, so just coordinate with folks in the Talkback thread to hop on on Sunday, March 27.
I'll be on in earnest around 9 p.m. EST, so if you want to kick the NWR Director's ass, come on around then. My 3DS Friend Code is 4081-5475-2147. Leave yours in the Talkback thread, and we'll play some games.