It conveys 3D without fancy screens.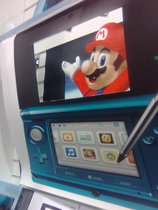 An advertisement for Nintendo 3DS at an Australian EB Games features a mock-up Nintendo 3DS display, with a picture of Mario placed further back than the surrounding image. This gives off a perception of depth which helps to illustrate what the 3DS is all about.
Displays like this will undoubtedly be used around the world in similar places.