Nintendo's famed game designer explains to Iwata why he wanted to remake Ocarina of Time in 3D.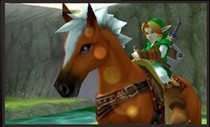 One of the main reasons Ocarina of Time was remade in 3D for the 3DS was because Shigeru Miyamoto, the title's original director and producer, wanted to experience the game in a new dimension.
In the latest installment of Iwata Asks, the Nintendo President sits down with Shigeru Miyamoto to talk about his upcoming Nintendo 3DS projects: Ocarina of Time 3D and Star Fox 64 3D.
One of the main points of discussion is the motivation for remaking these games. In the case of Ocarina of Time, Miyamoto simply wanted to see the world of Hyrule in 3D.
"The biggest reason for me personally was that I myself wanted to see the majestic scenery of Hyrule in stereoscopic 3D..."
Regarding the Star Fox 64 3D remake, Miyamoto explains that depth of field was always important in that game. The 3D remake will allow players to distinguish the scrolling scenery easier.
The games were also remade because the original hardware didn't allow for more elaborate designs. Miyamoto notes that "at the time [of the N64 releases], we'd barely gotten the games to move in terms of the polygon counts or wire frame processing."
Miyamoto also elaborated on Ocarina of Time 3D's menu system, stating that the game will use the system's buttons as well as a new touch screen menu system.