Plants fight off zombies and lights create music in this week's crop of games.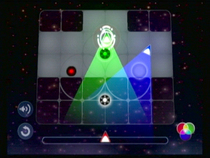 The week's update sees three games for DSiWare and one game and one demo for WiiWare. Highlighting the week's DSiWare updates is PopCap's Plants vs. Zombies. The tower defense-style title has players fighting off hordes of zombies using plants. Alongside the main game, there are four additional mini-games. Plants vs. Zombies can be downloaded for 800 DSi Points ($8).
From Agetec Inc. is Rabi Laby, an Alice in Wonderland-themed co-op game in which players must use the abilities of the main protagonists in order to survive the game's labyrinths. The title has been priced at 500 DSi Points ($5).
The final DSiWare game for the week is cerasus.media's 5 in 1 Mahjong. The 200 DSi Point ($2) title features several variations of the famous game, including "Memory" and "Shuffle".
The WiiWare game for the week is Liight, from Studio Walljump. Liight is a puzzle game in which players must correctly place beams of light in their corresponding places. Doing so will create music. Puzzles can be created and sent to friends over WiiConnect24. Liight is available for 500 Wii Points ($5).
This week's update wraps up with a demo version of Mix Superstar from Digital Leisure. The title turns player into music mixers as they use various beats to create songs. The Wii Speak microphone is also compatible with the game. The demo can be downloaded free of charge.