The Nintendo 3DS outsold all of its competitors combined last week.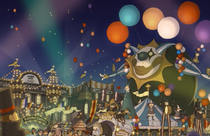 In its second week on the market, the Nintendo 3DS continued to push large numbers of hardware. The handheld, which sold 209,623 units in its first full week, outsold all other platforms combined. This number is down from its launch weekend sales of 374,764 units, but this can likely be blamed on supply issues.
Professor Layton and the Mask of Miracle from Level-5 was the best-selling Nintendo 3DS game for the second week in a row, with sales of 59,138. The combined versions of Nintendogs+cats saw only a modest 30% decline in sales, ending the week with a total of 44,699 units sold.
The final Nintendo 3DS game to make the top 10 was Samurai Warriors: Chronicles from Koei-Tecmo, which capped off the week with sales just above 30,000.
Outside of the top 10, several other Nintendo 3DS games can be found. Super Street Fighter IV: 3D Edition, Ridge Racer 3D and Winning Eleven 3D Soccer all finished with sales near the 16,000 mark.
The Nintendo 3DS saw two games debut in the top 50 this week, led by Super Monkey Ball 3D at position 22. Shanghai 3D Cube from Sunsoft entered at number 45.
With the colossal 9.0 magnitude earthquake falling into next week's sales week, expect to see software and hardware sales continue to decline until Japan begins to recover from the events of last Friday.