Nintendo's new handheld saw enormous sales during its first two days.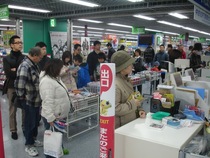 The Nintendo 3DS launched in Japan over the weekend, and despite being available for a mere two days, the new handheld managed to shift 371,326 units.
These numbers put the Nintendo 3DS as the second biggest launch for Nintendo, just behind the Game Boy Advance, which shifted 611,504 units. It is, however, worth noting that the Game Boy Advance had five days on the market as opposed to the two that the Nintendo 3DS was available.
The biggest launch title of the bunch was Professor Layton and Mask of Miracle with sales of 117,589 copies.
The sales of the other Nintendo 3DS launch games will be released later this week.