Japanese gamers can now program their own games. Updated.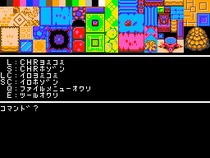 Next month, Japan's DSiWare store will see the release of a creative application called Puchikon, short for PetitComputer. Using the touch screen like a keyboard, players can write up their own BASIC language game scripts to test, play and share their own games.
The software features three sample games and seven sample programs to provide a starting point, as well as thirteen developing tools with which to create sprite-based graphics and program game mechanics. The three sample games look to be simplified versions of a racing game, a basic RPG battle game and a top-down plane shooting game.
PetitComputer will be available on March 9 and cost 800 DSi points.
Update: The official website also has the following information:
Files can be transferred between DSi consoles, but cannot be sent between other software or computers for security reasons. Music is selected from preset samples, and it is not possible to make your own.
The version of BASIC has a few syntax changes. GOTOs are performed with string identifiers instead of line numbers. Three sample programs CHRED, SCHRED, and GRPED function as a tile editor, background screen tile editor (stage layout), and an image creation tool.
Sample software includes: Hello World, Simple Calculator, Simplified Audio Sequencer with drum and keyboard, command line Guess the Number, a Joke Birthday Biorhythm Graph generator, Simplified Sequencer with a sound loop, Action Game with character movement and hit detection.