Download this preview version now before it's too late.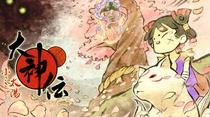 A playable demo of Okamiden is available to download from the Wii's Nintendo Channel to a Nintendo DS from today, for a limited period of time.
The demo lets you try the celestial brush on the DS touch screen, battle enemies, meet some of Chibiterasu's partners, and see a small part of the world of Okamiden.
Okamiden is a direct sequel to Okami on Wii and was released in Japan last September. It will be available in North America from March 15, Europe from March 18, and Australia from March 31.