The special edition DSi units match the color of the game they're bundled with, and are etched with legendary Pokémon.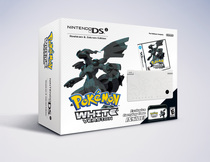 Special edition Nintendo DSis, bundled with Pokémon Black or Pokémon White will be released with the games on on March 6, the same day as the release date for the games.
Retailing at $179.99 (the DSi's regular retail price is $149.99 without a game), the black DSi will come with Pokémon Black and the white DSi with Pokémon White. The top of both units will be etched with the two legendary Pokémon of the upcoming titles: Reshiram and Zekrom.
Pokémon Black and White features video chat when played in a DSi or DSi XL. Voice chat is available across the DS family of systems.